Login
If you have an account with us, please log in.
Dont have an account? Register
7 NCS colours that are totally on trend
20 Jan 2022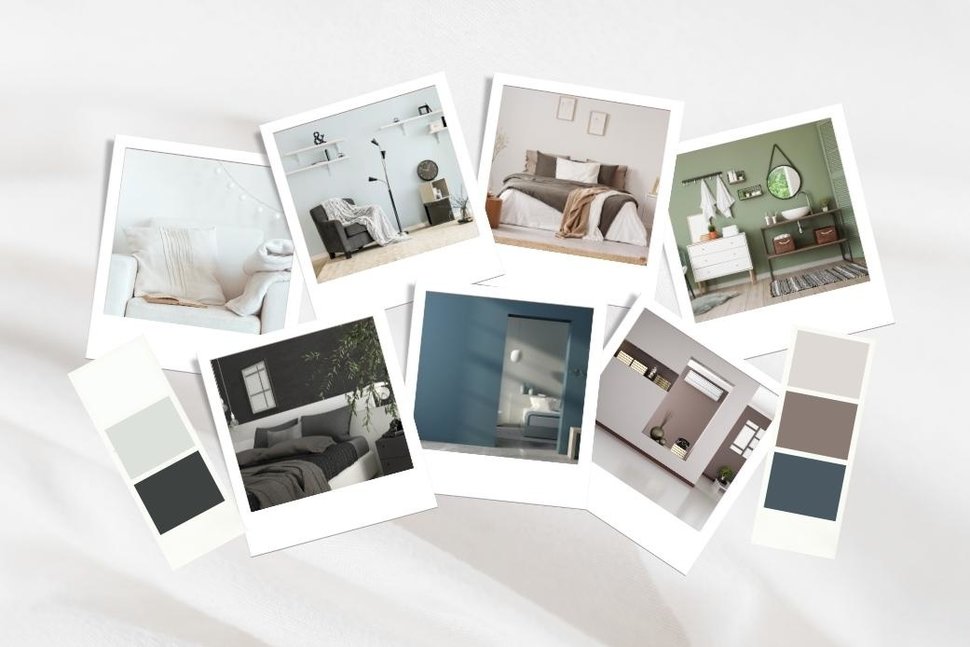 Nature still is one of the main trends in interior colours for 2022. Still, as it was already trending in 2021. Trendy interiors this year showcase natural hues such as blue, green and sandy colours. We've selected seven popular NCS colours for you that are absolutely following the 2022 trend! 
TIP: Find out more about NCS or the Natural Colour System here.
NCS S 0500-N
This first colour is one of our best-selling paint colours. Not surprising, considering it is a gorgeous, neutral white that is easy to combine. It's slightly richer than the standard basic white paints, as it contains a bit of pigments - not too much, though. This shade of white might make you think of fresh snow or white, fluffy clouds.
The N at the end of the colour notation indicates that this is a neutral tone. Because of its neutrality, it can be easily used in many different rooms and multiple colour schemes. 
NCS S 1500-N
Should you want to go just a little bit darker than white, but still keep it light and neutral, then we recommend this lovely light grey. A foggy hue that entirely fits into the natural colour trend. 
It's actually a different shade of the same colour as our first. It's somewhat darker as it contains a bit more black pigments (S 1500-N, 15% blackness, versus S 0500-N, 5% blackness). 
Because this one also is a neutral colour, it's again very easy to combine. Obviously, a great pairing would be with its white sibling S 0500-N, as they have very similar NCS values. 
NCS S 1505-Y90R
With the next colour, we're leaving the neutrals. Apart from black pigments, this colour contains some colour pigments as well. We'd describe it as a slightly richer colour; a warm sandy hue that will pair wonderfully with other warm tones, such as terracotta or red.
Alternatively, you could use it as a warmer counterpart to cooler colours, to create a sense of balance in the room. As it is not very saturated, it offers many possibilities for combining.
NCS S 4010-G70Y
The fourth NCS colour in our selection might be the one that is following the 2022 nature colour trend the most. It's a natural looking shade of (olive) green. 
As you can see in the image, a lovely colour scheme to use it in could be one including white, beige or brown. Black accents work quite well together with this colour, too.
NCS S 5010-Y90R
This colour is related to NCS colour S 1505-Y90R, the third colour from our selection. It has the same colour components value; Y90R, which means a yellow base with a large percentage of red. However, this shade has a higher level of blackness (50% instead of 15%) and of chromaticness (10% instead of 5%). This colour can best be described as an earthly, warm shade of brown with a red undertone.
Obviously, it can be combined with its relative S 1505-Y90R, but other warm colours will match beautifully as well. 
NCS S 7010-R90B
Slightly more dark is this one: a cool blue NCS colour that reminds us of the depths of the ocean. With this link to water in mind, the bathroom would be a fun place to use it in. Blue is also a very calming colour. Therefore, it can also transform your living room or bedroom into a calming and tranquil space.
This colour goes together well with white and grey, for example, but also with sandy colours - the beach to the water. 
NCS S 8500-N
Last but absolutely not least, this is the darkest colour from our selection. This NCS colour, which could be described as dark grey or anthracite, is a very popular, neutral, dark colour. It might make one think of dark rocks, or a raven. It's definitely equally as strong!
S 8500-N contrasts beautifully with the lighter colours from our selection. The first two (S 0500-N and S 1500-N) in particular, as they are in fact almost the same colour, except for the amount of blackness. S 8500-N contains more black pigment, as it has a blackness level of 85%, whereas S 0500-N has 5% and S 1500-N has 15%. Thanks to its neutrality (N), this colour is also quite versatile. 
Feeling inspired?
Keep into account that all images in this blog merely serve as an illustration of what the colour could look like in an interior. Screens always tend to render colours differently. If you want to be completely sure of what a colour looks like, it's best to purchase or rent a our Sigma Colour System C21.3 Colour Chart, which contains all standard NCS colours. 
To try out the colour(s) of your liking at home, you can use our colour testers. That way, you can see right away whether or not the colour looks good in your interior, what effect the lighting in the room possibly has on it and... you can already get used to it too!
Want to skip all that and start painting right away? Great! You can pick out your paint from our wide assortment of quality paints. If you need advice, feel free to reach out to our experts. They'll be happy to help!