Login
If you have an account with us, please log in.
Dont have an account? Register
These are the 2023 paint colour trends!
06 Oct 2022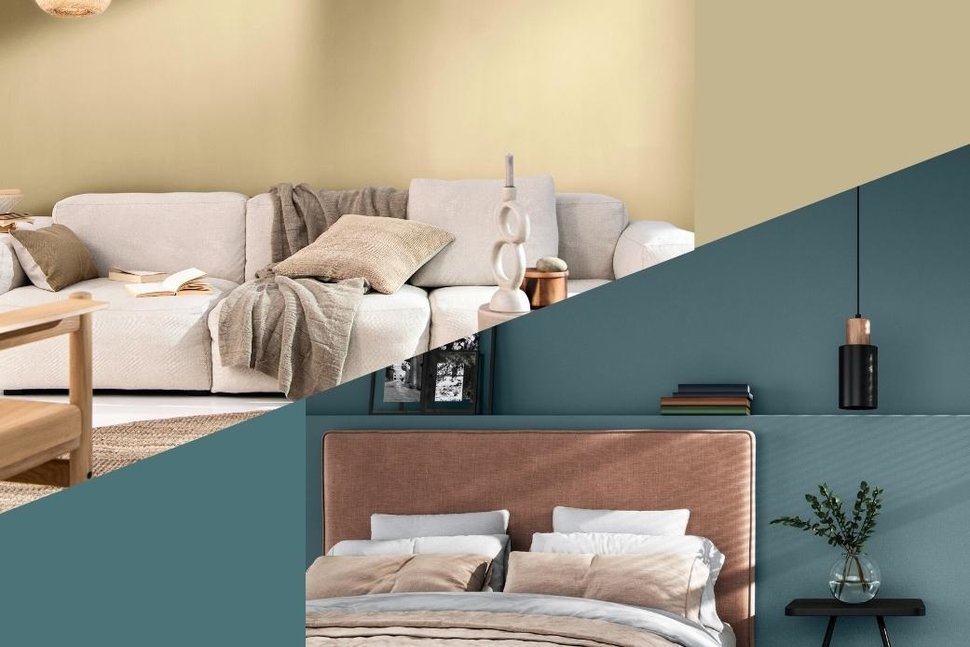 image source: PPG coatings (bottom) - Levis (top)
The 2023 colour trends are out! Curious to see which colours have been selected by different paint brands? Keep reading then, as we have collected them all for you. Also, make sure you don't miss our handy overview, which you can download at the end of this post.
Keeping up the natural colours trend
2022 Paint colours were mostly shades of green, blue and brown; colours that can be brought back to natural sceneries. In addition, 2022 colour collections often also displayed deep and rich hues, clear and neutral tones and a series of happy and bright colours. 
For 2023, we're headed in the same direction. The colour experts of different paint brands seem to agree that 2023 is a year where peace and warmth are most needed, which is clearly reflected in the colour palettes they put together. Earthy tones, providing a sense of serenity and stability, while creating a sense of warmth and comfort, are therefore claiming a prominent place in most 2023 colour trend collections. They are accompanied by other fauna and flora inspired colours, such as calming oceanic blues, serene shades of green, or warm whites. Sunny yellow also seems to have made its way into the trend collections.
Sigma Coatings 2023 colour of the year
image source: PPG / Sigma
Sigma has selected a greenish blue as the leading colour for 2023: Vining Ivy (PPG1148-6). It is a slightly darker tone, and a bit muted too, which according to Sigma refers to the deepest depths of the seas. They also describe it as a vibrant colour, which at the same time breathes serenity and stays grounded, like the small moments of joy we have been able to experience - and increasingly still experience - ever since the covid-19 era ended. 
As it is a very versatile colour, Vining Ivy allows various combinations, according to PPG Coatings (manufacturer of Sigma paints), which leaves you with plenty of time for the good things in life - no more stressing for hours over which colours to combine! And... in case you are still struggling to imagine other colours next to Sigma's #COTY2023, there are once again three beautiful palettes with pre-defined original colour combinations: Serenity, Duality and Origin. They are all based upon reflection; reflecting on what is important to us, reflecting on our relationship to the planet we live on, reflecting on our interaction with others.
Serenity
image source: PPG / Sigma
The Serenity palette displays mostly softer hues. PPG describes it as an elegant palette with milky pastels, watery colours and warm neutrals. Its focus is on prioritising the important things in life and attempting to find inner peace.
Origin
image source: PPG / Sigma
This palette contains some darker tones, and has deeper and richer shades in general. Origin can be described as a symbol of nature's beauty, which is rather grounding, yet at the same time truly magical. Its colour combinations are meant to create a sense of safety, while also leaving the door open to start exploring new grounds. 
Duality
image source: PPG / Sigma
The third palette is named Duality and showcases a lot of bright, fresh and happy colours. According to PPG, this palette stands for a recreated world, according to ones own rules, with powerful contrasts between bright colours, pure pastels and strong neutrals. 
Try it yourself
With our sets containing three Sigma trend colours, you can try out at home which colours fit your interior best. Each set contains a colour combination put together by Sigma, which you can also see in the inspirational images included on our product page. So... there already is a match between the colours. Will they be a match for you?
Levis 2023 colour of the year
image source: Levis 
AkzoNobel, manufacturer of paint brands such as Sikkens, Trimetal and Levis, has elected Wild Wonder to be their colour of the year 2023. Just like Brave Ground in 2021, it is a warm, natural colour, but other than that, it is entirely different. Wild Wonder is more of a dark yellow shade, going towards beige. At AkzoNobel's, they define it as a natural, positive shade of yellow, reminding us of a wheat field. 
According to good habit, the new trend colour comes with four new colour palettes: Buzz, Flow, Lush and Raw. Sikkens collects them under the Colour Futures 2023 collection, Levis under the Ambiance Trend Collection 2023. The four palettes also include a couple of old favourites, by the way. Apart from Brave Ground (2021), you will also rediscover the light blue Bright Skies (2022) and the grey blue Denim Drift (2017).
image source: Levis 
Buzz
image source: Levis 
The Buzz palette contains warm and optimistic colours, reminding us of a field full of colourful wild flowers. It is a lively, playful, refreshing palette, according to Levis.
Flow
image source: Levis 
Flow contains a series of cooler, airy and dreamy tones, allowing you to create more balance in your interior.
Lush
image source: Levis 
With Lush, you enter right into the world of fauna and flora. With its green and lavender tones, the palette can be described as peaceful forest hues that help us feel rooted and supported.
Raw
image source: Levis 
Raw collects mostly earthy down-to-earth colours. The palette offers many soft and warm hues, all of which have a very natural feeling.
Other 2023 paint color trends
We're still waiting for the trend colour selection by Mathys. We'll update this blog when we know more. We can already share, however, the 2023 paint colour selections by Boss Paints, Valspar and Behr.
Boss Paints
Boss Paints chose Entangled Green (WE M191) as its 2023 colour of the year. The paint brand describes it as a subtle greyish green, which is at the same time calming and soft, and stimulating and fresh. In other words: completely following the major 2023 interior trend theme of nature and peacefulness. 
image source: Boss Paints
Boss Paints, too, includes four palettes with its colour of the year, each of which contains six compatible colours next to Entangled Green.
Process by nature: combines Entangled Green with six other shades of green, from light, over bright, to dark. 
A call for beauty: contains sandy tones, which are obviously perfect companions for the green trend colour.
Content of escape: a bundle of joy with its optimistic hues, including a bright and sunny yellow.
Need for sense: follows up on the pastel colour trend. 
Valspar
Same as last year, Valspar does not have just one colour of the year for 2023, but a gorgeous collection of twelve paint colours, from warm white, over beige, blue and green, to cheerful orange, pink or lilac. They describe it in three words as "comfortable, joyous, beautiful". 
image source: Valspar
Behr
Blank Canvas (DC-003) is 2023 Color of the Year for Behr. Even though the colour wears the 'trend' label, it is really a timeless tone. This warm shade of white can be used just about anywhere: for a bright and welcoming entryway, for a cozy and spacious living room, for a fresh kitchen, for a tranquil bedroom, for a modern bathroom,...
image source: Behr
Blank Canvas is paired with eleven other paint colours, all of which can be nicely matched with it. The palette has a combination for anyone and everyone, with its diverse colours ranging from blues, greens and browns up to again happy, bright and rich power colours. 
Finally, as promised... We've gathered all of the paint colour collections mentioned above in one super handy document for you. As a bonus, we've also included six colours selected by our own team, of which we think they are perfect for 2023. 
We will keep the overview updated when new colour trends surface. Feel free to ask for an updated version!