Matt, insulating wall paint with high abrasion resistance. Not shiny. 1L, 2,5L, 5L & 10L
Read more
Matt, insulating wall paint with high abrasion resistance. Not shiny. 1L, 2,5L, 5L & 10L
Read more
Opaque waterborne primer for interior walls and ceilings, based on alkyd emulsion that prevents the occurrence of dull spots in the finish. 1L, 5L & 10L
Read more
Super matt solvent free paint for ceilings. 2,5L & 10L
Read more
Free Shipping (BE & NL) From € 50

Professional Advice

Paint, Wood protection & Accessories
Opaque waterborne primer for interior walls and ceilings, based on alkyd emulsion that prevents the occurrence of dull spots in the finish. 1L, 5L & 10L
Read more
Water dilutable universal primer on the basis of a 100% acrylic dispersion, with an exceptional good adhesion on various surfaces and very quick drying time. 1L & 2,5L
Read more
High-quality scratch-resistant polyurethane acrylic topcoat with good flow, water-based for the inside. 0,5L, 1L & 2,5L
Read more
High-quality scratch-resistant polyurethane acrylic topcoat with good flow, water-based for the inside. 0,5L, 1L & 2,5L
Read more
Free Shipping (BE & NL) From € 50

Professional Advice

Paint, Wood protection & Accessories
Insulating wall paint with velvety aspect and high abrasion resistance. Not shiny. 1L, 2,5L, 5L & 10L
Read more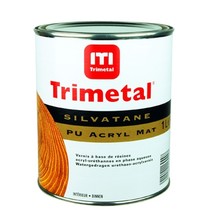 Transparant matt acrylic polyurethane varnish for woodwork based on water, for the inside. 0,5L, 1L & 2,5L
Read more
High-quality scratch-resistant polyurethane acrylic topcoat with good flow, water-based for the inside.
Read more
Wall Paint with velvety aspect based on acrylate. Long open time and good flow. 1L, 2,5L, 5L & 10L
Read more
Trimetal stands for complete paint systems, various services and support tailored to the professional. Trimetal puts painters always and everywhere on the first place. Because your job is their profession. The quality of their products ensures a beautiful and lasting results.