Dalapro Nova is an extra smooth allround filler with a high build for all common types of indoor wall and ceiling surfaces. Svanen Ecolabel. 3L & 10L
Read more
Dalapro Facade is grey filler for outdoor and indoor use. For patching, repairing and for skimming. 10L
Read more
Free Shipping (BE & NL) From € 50

Professional Advice

Paint, Wood protection & Accessories
Mathys elastic, paintable jointing paste based on acrylic dispersions for sealing, jointing, filling. 310 ml
Read more
To fill and repair all exterior surfaces.
Read more
Free Shipping (BE & NL) From € 50

Professional Advice

Paint, Wood protection & Accessories
Surface filler for indoor use: manual and airless.
Read more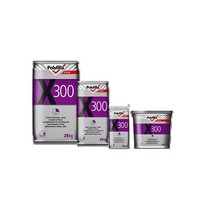 Smoothing powder on the basis of cement (2-in-1).
Read more
Skim plaster for manual and airless (for the interior).
Read more