Toupret Granirex - Powder
Gratis verzending vanaf 55 euro

The professional's choice

Best Prices

Top Brands
Information
Toupret Granirex - Powder
Renovation filler powder for manual outdoor applications. Enriched with short fibers for better adhesion and increased resistance.
Also granulated to mimic the structure of cement.
Description
GRANIREX® is applied to untreated or painted but absorbent surfaces, dry or damp, but not dripping.
Concrete, aerated concrete
Mortars and cement fillers
Concrete blocks
Brick
Stone
Main features
Fiber-reinforced and rub-on to a grain structure
3 FINISHING LEVELS: rough, tight and grained
ADHESION: on untreated and absorbent painted surfaces dry or damp
RUBBABLE to a granulated structure: rubbable between 45 minutes and 3 hours
Pleasantly processable
PROGRESSIVE CURING for 2 hours
UNLIMITED LAYER THICKNESS: as filler
Finish
All common exterior paints: thin-layer, semi-thick and thick-layer organic paints and waterproofing systems.
Specifications
Use:
Flatten, fill and repair
Setting:
Outdoor
Consistency:
Powder
Max. thickness:
Unlimited
Mixing ratio:
17% of water for filling and repairing (or 3,4 L of water for 20 kg of powder)
20% of water for flattening (or 4 L of water for 20 kg)
Processing time:
2 hours, progressive binding
Recoverable:
At least 24 - 48 hours
Color:
Grey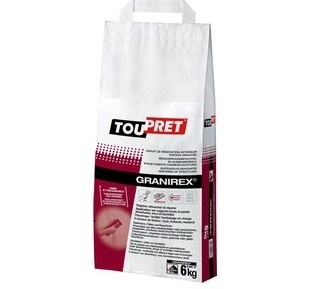 Reviews
No reviews found
Read or write a review