Toupret Humiblock - Powder
Gratis verzending vanaf 55 euro

The professional's choice

Best Prices

Top Brands
Information
Toupret Humiblock - Powder
Filler for the treatment of moisture problems inside and outside.
Description
HUMI-BLOCK can be applied on all mineral surfaces, dry or damp, but non-seeping, inside and outside:
Cement, concrete
Concrete blocks, brick, stone
The surfaces to be treated must be stripped of all finishes and exposed to the pure mineral basis.
Main features
Only on mineral surfaces
Ideal for cellars, creep cellars, undersides of facades
Can be applied locally up to 1 cm
Finish
After complete drying, HUMI-BLOCK can be finished with all common breathable paints and breathable paint systems (filler + paint) in order to retain its breathable effect and to allow vapor pressure control (at least classification V2 according to standard NF EN 1062-1). Any closed finish or glued covering is excluded.
Specifications
Use:
Putty of substrates affected by moisture
Setting:
Indoor and outdoor
Consistency:
Powder
Max. thickness:
Flattening: at least 2 mm to 5 mm
Filling: up to 1 cm locally
Mixing ratio:
For use with block brush: 27% water (or 0.27 l of water per 1 kg of powder)
For use with the flat trowel: 22% water (or 0.22 l of water for 1 kg of powder)
Processing time:
3 to 4 hours at 20 ° C depending on its preparation
Recoverable:
24 hours
Color:
Off-white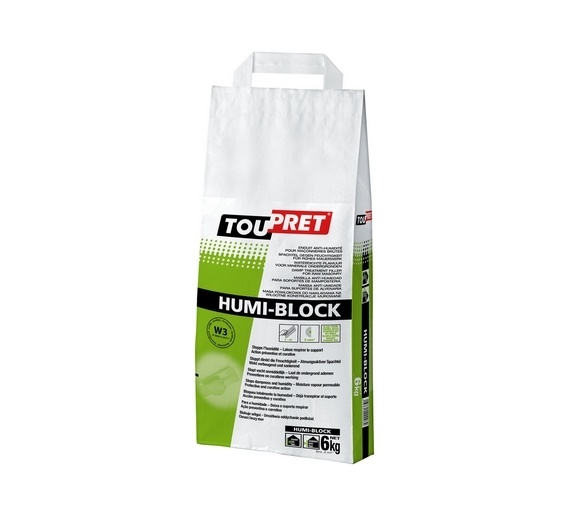 Reviews
No reviews found
Read or write a review